Curious who is dedicated to doing right by your pet? Meet our team!
Veterinarians
Dr. Ed Hsu

VMD
The Honolulu Pet Clinic welcomes Dr. Ed Hsu. Dr. Hsu is a graduate of University of Pennsylvania School of Veterinary Medicine and also earned a M.P.H from the School of Public Health from the University of California, Los Angeles with a concentration on Tropical & Infectious Diseases & Parasitology. He completed an internship at the Sacramento Animal Medical Group with every intention of continuing in general practice, but the lure of emergency medicine was too much to ignore. After having worked as an emergency/critical care veterinarian at many of the premier specialty and referral practices in Los Angeles over the last 15 years, he returned to general practice with his purchase of The Honolulu Pet Clinic in 2016. He has 20 years of experience in the field. Dr. Hsu's goal is to honor and maintain Dr. and Mrs. Roger Kondo's tradition of excellence while incorporating more emergency medicine. This is why Dr. Hsu takes emergency after-hours call 24 hours per day, seven days per week. A known cat-whisperer, he has a special fondness for polydactyls. Dr. Hsu also favors lop ear bunnies and is obsessed with Pomeranians. When not caring for his patients, Dr. Hsu can be found SCUBA diving, paddle boarding, trying to work his way through a 10,000 DVD collection, or spending time with his 9 cats.
Dr. Roger M. Kondo

DVM
Dr. Roger Kondo is an Oahu native and 'Iolani School alumnus. He received his BS from Ohio University, his MS from the University of Hawai'i, and his DVM degree from Washington State University. Dr. Kondo owned The Honolulu Pet Clinic for 32 years before transferring ownership to Dr. Ed Hsu in 2016. Although recently retired, Dr. Kondo missed his patients and their families so much that he returned to work part-time. His mission is to provide clients and patients a timely diagnosis and a clear plan of treatment that yields results. He enjoys the full range of veterinary medicine: internal medicine, dermatology, surgery, dentistry and of course just caring for all his furry friends. When not working or caring for his granddaughter, Cosima, you will find Dr. Kondo enjoying canoe paddling, stand-up paddling, tennis, and taking long, long daily walks with his beloved dog, Olive.
Dr. Meghan Barrett

DVM, cVMA, CCRT, CVFT, FFCP
Dr. Meghan Barrett is an Oahu native and 'Iolani School alumna. She earned her BS and DVM degrees at the University of Hawaii Manoa and Colorado State University in Fort Collins. She is a Certified Veterinary Acupuncturist for small and large animals, and she is also a Certified Canine Rehabilitation Therapist (similar to physical therapy in humans). Dr. Barrett recently earned a third certification-that of a Certified Veterinary Food Therapist. She is certified in veterinary rehabilitation and acupuncture, as well as food therapy and nutrition. Pain management is one of her primary clinical interests. Dr. Barrett especially loves working with senior dogs and cats to improve or maintain their quality of life as they age. She has a special place in her heart for Huskies because of her dog Heidi, shown in the photo, who passed away this year. When she isn't working she enjoys spending time with her horses, Rico and Prince, and being active in nature.
Dr. Chiara Zunino

DVM
Born and raised in Tuscany, Italy, on a big farm with all kinds of animals, Dr. Zunino decided she wanted to travel the world...and get over her fear of blood! She started veterinary school in Pisa, Italy at the age of 27 and then ventured off to help all animals with fur, feather, and scales. After receiving her Veterinary Degree in 2016, Dr. Zunino traveled all the way from Italy to Hawaii to learn how Americans practice veterinary medicine and enjoy life even during winter time! She completed her U.S. Veterinarian Exams in the fall of 2020, and while doing so got 3+ years practice as a Veterinary Technician. Dr. Zunino is very excited to be able to now serve the community as a fully licensed Veterinarian! In her free time, Dr. Zunino stays active outdoors, regularly pays her Zumba "dues," snorkels, swims, and generally embraces Hawaiian paradise weather. She loves to travel to other warm places, enjoys great food and vino, good books and even plays the occasional video game :-).
Staff
Trilby Sheeser

Practice Manager
Trilby moved to Honolulu from Los Angeles in 2016 with Dr. Hsu and their 10 cats and 2 dogs. Since then, happily the squad has grown, but sadly it has also shrunk, and is currently at 9 cats. She has followed a long and meandering path to veterinary medicine. Trilby's first job after graduating from Middlebury College with a BA in psychology was as a restaurant dishwasher. Since then, she has worked in women's healthcare, movie production at Disney, fitness and most recently, spent 15 years as an admissions advisor at a medical college. Trilby can't believe how lucky she is to spend her days with animals and the people who love them. When not at The Honolulu Pet Clinic, she can be found getting lost on foot and by car, trying to pet dogs and cats everywhere, and eating hot pretzels at the mall instead of going to yoga.
Patty

Lead Receptionist
Patty has been manning the front-lines at THPC for nearly half her life. As a receptionist and expert clinic "air-traffic controller", she has mastered the multi-phone juggle, while still providing excellent care and attention to each pet's needs. In her tenure at the clinic, Patty has collected countless stories of adventures in veterinary reception, each one of them sure to make you laugh until your stomach hurts. We knew she was something special when her Thanksgiving pie request was humble pie! Patty's ability to remain composed and find the humor in any situation is a real blessing to the team. In her spare time she often lifts weights, though carrying her three French bulldogs around like footballs under her arms is quite a workout in itself!
Rachael

Receptionist
Rachael grew up in South Dakota. She received her Bachelors of Music at the University of South Dakota, specializing in opera performance and early music. Rachael brings to The Honolulu Pet Clinic several years of experience in retail, customer care, and business administration. She loves organizing. Rachael and her wife have a 5-year-old tabby named Pamina (after the princess in Mozart's Die Zauberflöte). In her spare time, Rachel enjoys singing, hand lettering, going to the beach, and cooking with her family.
Yarnell

Technician Team Manager and Coach
Yarnell started her career in the veterinary field in 2005. Originally she applied for a vet tech position, but was asked to start as a customer service representative since she had prior receptionist experience in a human urgent care facility. After 2 years of mastering the art of multi tasking under pressure, while still promoting exceptional customer service, her drive & passion to work more closely with the animals got her cross- trained to finally become a tech. In 2014, Yarnell joined The Honolulu Pet Clinic. Here she continues to use her medical knowledge in wellness visits, surgery, ICU, & emergency critical care. She loves sharing her experiences with her new team members in order to provide patients with compassionate quality care. Creating new bonds with clients and their furry companions has kept her in this career with us for the past nine years!
Anu

Veterinary Technician
Anu was born and raised in Kailua, Oahu. She grew up with different animals and always knew she wanted to do something in the veterinary field. Anu officially started her career in the veterinary field in 2012, but had already been working with animals in 2010 as a Hawaiian Humane Society volunteer in the surgical recovery area and adoption team. She has always had a huge love for animals with a special place in her heart for horses. Anu loves to learn new things daily with anything involving veterinary medicine. When not at The Honolulu Pet Clinic, Anu loves being with her family, going to the beach and watching movies. She recently adopted two new kittens from the clinic, whom she named Hiccup and Toothless, and loves watching the slow growth of Turbo, her leopard tortoise.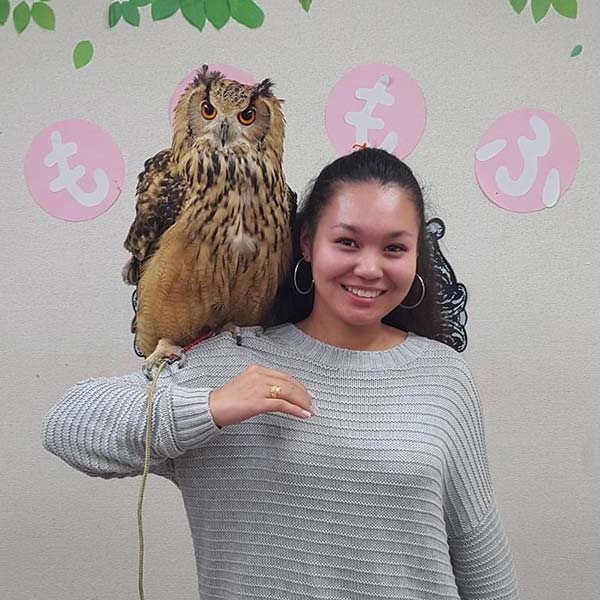 Ayaka

Registered Veterinary Technician and Lead Surgical Technician
Born and raised in Japan, Ayaka is fluent in both Japanese and English. She moved to Oahu in 2016 for college to pursue her dream of helping animals. Her passion for helping animals began when as a child, she rescued her dog Nano from his life as a stray. Ayaka's main goal is to learn as much as she can so that she can help as many animals as possible. Outside of work and school her other hobbies include martial arts, traveling the world, swimming at the beach and playing with her newly adopted rescue dog, Anna.
Lexi

Veterinary Technician
Lexi grew up in Southern California, with dogs, cats, horses, and reptiles. After high school, she became a hairstylist to express her creative side. It wasn't long before Lexi realized that this wasn't truly fulfilling and that she wanted to work with animals. She began working at a ranch with daycare and boarding for dogs. Because the dogs were able to socialize with each other, Lexi was able to learn a great deal about dog behavior. She grew to love animals even more and wanted to be a voice for them. She needed a change of scenery, but wanted to continue her education with animals. Lexi moved to O'ahu and started her journey with The Honolulu Pet Clinic. In her spare time, she loves to paint, enjoy the sunset and snuggle her newly adopted kitty Athena.
Elizabeth

Veterinary Technician
Elizabeth grew up in Southern California. She recently graduated from UH Manoa with a Bachelors in Biology. She discovered her love of animal care while volunteering and fostering animals from her local shelters. In the summer of 2021 Elizabeth went to Guatemala on a voluntary veterinary trip and their team spay/neutered over fifty animals in two weeks. Elizabeth has aspirations to be a veterinarian one day and recently applied to veterinary school. In her free time she loves to play with her two cats Jinx and Ophelia and go to the beach with friends. Tyler

Veterinary Technician
Tyler was born and raised in Mississippi. He has followed his wife of 7 years halfway across the mainland and gained experience with animals along the way. Tyler has worked at the Nebraska Humane society as a kennel technician and veterinary assistant, and then worked for a private animal clinic in Fargo, ND for almost 2 years. He and his wife moved to Honolulu in 2023 and are loving the city and the island! He is excited to continue his career in animal medicine and build his skills while working at The Honolulu Pet Clinic. Tyler and his wife currently have 2 pets; one half-Pyrenees named Mycroft, and one tuxedo cat named Watson. Tyler loves to rock climb at the gym in Kaka'ako as well as go hiking on the Makiki Valley Trail loop. He also plays Dungeons & Dragons at every opportunity, and he hosts an in-person game once a week.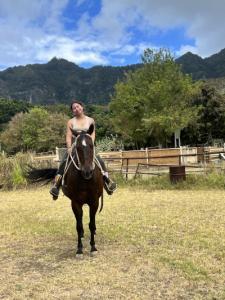 Miriam

Veterinary Technician
Miriam was born on Oahu and raised in Thailand. She is in her final year of her degree in Animal Sciences Program at UH Manoa!! Miriam grew up with a fun squad of pets made up of dogs, cats, Guinea pigs, hamsters and turtles. She always knew she wanted a career working with animals. During her free time Miriam likes to eat out, ride horses, and hang out with her friends and fur babies.
Anthony

Veterinary Assistant
Anthony was born and raised in Los Angeles. He realized he wanted to become a wildlife veterinarian by watching Animal Planet and reading books. Anthony moved to Hawaii to attend University of Hawaii at Manoa to pursue his dream of becoming a veterinarian. He is too busy right now to have pets, so in the meantime he loves up the patients and boarders at The Honolulu Pet Clinic. In his tiny amount of spare time, Anthony loves to fish, skate, draw, hike, ride his motorcycle and go to the zoo. In this photo Anthony is with Sweet Potato, one of our most loving and sunshiney patients.
Erika

Veterinary Assistant
Erika was born and raised in the San Francisco Bay Area. She grew up with a dog, ducks and a tortoise and has always wanted to have a career with animals. She is going into her final year of her Biology degree at UH Manoa and will be applying to vet school in hopes of achieving her dream of becoming a veterinarian. Outside of school, Erika loves spending time with all the patients at the clinic, playing her flute and piccolo, and hanging out at the beach with friends.
Malia

Veterinary Assistant
Malia was born in Korea but was raised in Oahu. After high school, she began working at a doggy daycare, and volunteered at the Hawaiian Humane Society as a dog walker. She grew up with a dog, cat, mice, jackson chameleon, and turtle. She is also currently working in a research lab at UH Mānoa. Malia's dream is to one day become a small animal veterinarian. In her free time she likes to hang out with her friends and family.
Ready for an appointment?
When it comes to keeping your pet healthy and safe, there's nothing more effective than regular checkups. Call us today to schedule your pet's visit.