Physical rehabilitation for pets is a new and emerging field of veterinary medicine! As more people recognize the value of integrated and physical medicine for their own health, they see how it can benefit the health of their beloved cats and dogs. Rehabilitation for animals is similar to physical therapy in humans. A specialized, comprehensive exam will direct the specific treatment plan to rehabilitate your pet with possible goals of decreasing pain, enhancing function, increasing rates of recovery, and improving quality of life. It can be beneficial for patients of any age and activity level including puppies, geriatrics, post-operative patients, canine athletes, and working dogs, and can address a wide range of neurological and orthopedic diagnoses.
---
Common Conditions Treated
Arthritis
Spinal issues such as intervertebral disc disease and fibrocartilagenous embolism
Hip dysplasia
Elbow dysplasia
Patella luxation
Cruciate ligament tear
Post surgical (including TPLO, amputation, and others)
Degenerative myelopathy/neuropathy
Sports related injuries
Vestibular disorders
Geriatric or end of life pain management
Obesity
Muscle/tendon/ligament injuries
Conditioning programs for athletes and working dogs
---
Services Provided
Acupuncture
Therapeutic exercise
Laser therapy
Manual therapy
Pain management (supplements, medications, and treatments)
Obesity management and nutritional counseling
Cryotherapy
Is Rehabilitation Only For Dogs?
No! Cats can benefit from rehabilitation for issues including arthritis, neurologic diseases, or post-surgical recovery. We approach cats gently with respect to their independent nature and will often use non-invasive techniques like laser and manual therapy, although many cats do very well with acupuncture. Small mammals and birds can also benefit from rehabilitation for various conditions. Please contact us for more information!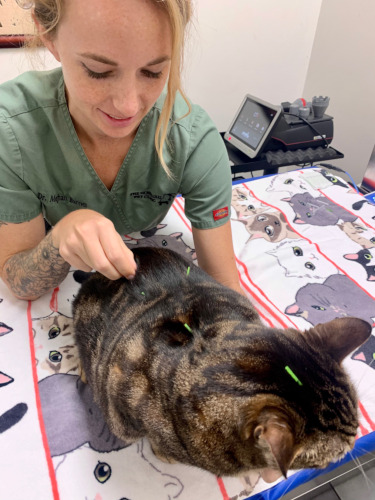 Pricing
An initial assessment is required to evaluate your pet and to develop a treatment plan and home exercise program if applicable. It includes a thorough medical history review, a hands-on comprehensive myofascial, orthopedic, and neurologic evaluation, and your pet's initial treatment. The assessment runs approximately 60 minutes and costs $150.
Follow-up treatments are dependent on the goals you have for your pet. They range from 30-60 minutes and cost $75-$120 based on the amount of time dedicated to your pet. Length of treatment is determined by extent of injury, location of treatment, and involvement of therapies.
Schedule An Appointment With The Honolulu Pet Clinic Today!
Dr. Meghan Barrett performs rehabilitation for companion animals at The Honolulu Pet Clinic. To contact us for more information, please call (808) 593-9336. We look forward to hearing from you!